By Tamar Zehavi
Being a part of the field of anaerobic microbiology, it's always better to learn from the best. My story begins with an email invitation by Prof. Paul J. Weimer, who recently retired from the USDA. I was invited to Wisconsin to learn from him about his methods of growing rumen microorganisms and I, of course, happily accepted the offer.
After several months of trying to find the 'right time' for all parties included, I started my journey at the Ben Gurion airport, Tel-Aviv. 15 hours later, I had arrived for the first time in my life to the United States of America. I had spent one night at the amazing Cambridge and even saw Harvard square and book store.
Sunday morning, I set my course to Madison, Wisconsin. Already at the airport I could see that I had arrived at the right place- Wisconsin is definitely "America's Dairyland"! Madison's airport was filled with cow sculptures of all sizes, shapes and colors. I then met my host for the first time, Paul, and his family had welcomed me into their home and into their family and I could not be more grateful. On the way to their lovely home, I looked out the window at the amazing views of Madison, the maple trees had started to change colors, and it was a spectacular sight. In the car, I had already found some common interests with Paul (aside from science and anaerobic microbiology)- our favorite ruminant is a goat.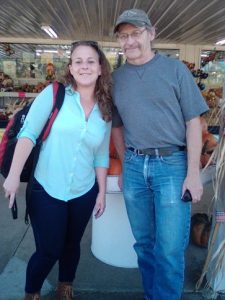 For the next 5 days, Paul taught me not only how to prepare the anaerobic media he uses to grow rumen microorganisms, but also all his small tricks from his vast knowledge and experience. We grew more than 20 rumen strains and even prepared an anaerobic roll tube, which was a dream come true for me as I have been wanting to do it from the first time I read about this cool technique 3 years ago. Along this week I have met his successor in the USDA, Derek Bickhart, and the three of us had many scientific conversations about methods, experiments and most of all- about rumen microbes.
Apart from doing amazing science, Paul and his wife made sure I received the full Wisconsin experience: Pumpkin patches!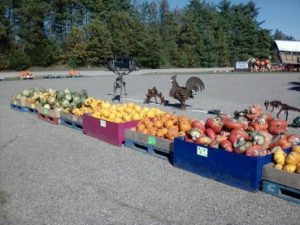 To be honest, I have never seen so many pumpkins in my life. Furthermore, I have never seen pumpkins made into so many different things: coffee, pies and most of all- for decorations. The visit to the pumpkin patches had another surprise installed for me: feeding small goats, chickens and other animals. For the first time in my life I saw a Bison, an Elk and reindeer.
Saturday morning, I started my journey back to Israel. Wisconsin was definitely good to me. It is a beautiful place; the weather was great and my hosts were amazing. I came back to Be'er-Sheva with a lot of knowledge and wonderful memories of a place so far from me. This is what makes science even better, collaborations and the sharing of knowledge and ideas that bring people from all over the world together.